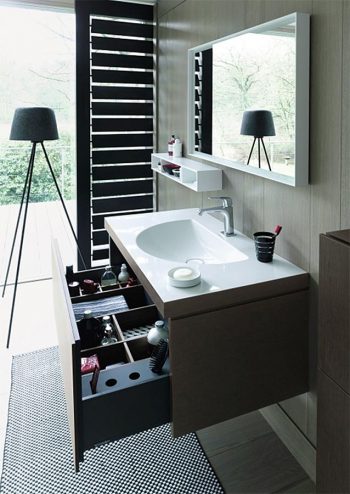 In today's society, less is more. But, if you can't pair down, then find great storage! The feeling of a well-organized space is invigorating, and there is no shortage of options to help you keep your bathroom tidy.
Vanities and bathroom cabinetry are designed to neatly house everything from hair tools to makeup. These features help simplify the homeowners' daily use of the space. With plenty of options to choose from, it is no surprise that bathroom vanities can be completely customizable.
Manufacturers like Robern, Duravit, and, Kohler offer customized vanities in all styles. Heat resistant surfaces, electrical outlets, compartments for toiletries, and even night lights can be added to vanities, tailoring them the homeowners' needs.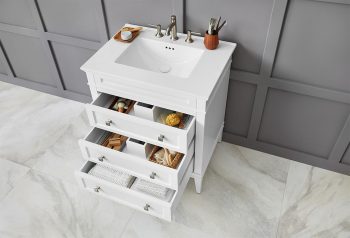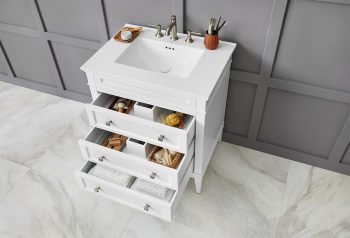 "When a client comes into our showroom to design their bathroom, we discuss their vision or inspiration for the space," said Kevin Lowe, Director of Showrooms for The Inspired Bath. "Next we gain a better understanding of how they intend to use the space on a daily basis. With this information, we can provide options for customizing their vanity and storage," continued Lowe.
Free standing, wall-mounted, or installed cabinets anchor the bathroom space, but are hardly a functional element to overlook. The style, size, and mounting of the vanity can be whatever the homeowner desires. Deep drawers, roll out trays, adjustable shelving, drawer dividers, and even pull out step stools are available.
Keeping makeup organized, towels hidden, and hair brushes away has never been easier. Let your beautiful countertops remain clutter free by designing a custom vanity.