Meet Alexia Catanzano – Showroom Consultant
What is your favorite design style? Why?
I am drawn to contemporary design because I love the simple, clean look.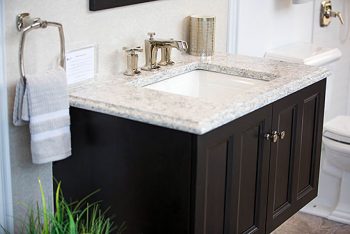 What is your favorite product in the showroom?
My favorite product in the showroom is the wall mounted Damask vanity with the Cambria Everest Quartz vanity top and the Kohler Memoir undermount sink. The combination of the gray countertop with the Kohler Batiste Black vanity and the Margaux® Polished Nickel faucet are a perfect display of contemporary design.
Where would you like to own a Dream home?
My dream home is by the ocean with a nice porch and a porch swing overlooking the beach.
What is the best part about working with clients?
I love knowing that when a client comes in here, they have an idea of what they want their bathroom to look like and when they leave, they know that we are able to make that possible. Turning a client's ideas into a reality is invigorating.